11 House representatives call on UN chief to oust Palestinian rights official Francesca Albanese for comments, saying her anti-Jewish bias 'undermines credibility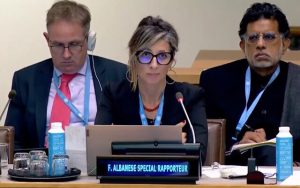 UNITED NATIONS — US Congress members on Monday called for the removal of a UN Palestinian rights official over antisemitic comments exposed by The Times of Israel.
UN Special Rapporteur Francesca Albanese, who is tasked with investigating Israeli activities in the Palestinian territories, has a history of antisemitism but has not faced any repercussions from the UN or issued a clear apology.
Albanese said during a 2014 conflict between Israel and Gaza terror groups that the "Jewish lobby" was in control of the United States.
Israel's Judiciary: Reform or Ruin?
She has also sympathized with terror organizations, dismissed Israeli security concerns, compared Israelis to Nazis, accused the Jewish state of potential war crimes, said Israel controlled the BBC, and claimed that the Jewish state started wars out of greed.
Albanese attempted to distance herself from the comments in a statement to The Times of Israel, but since the report exposing the comments last month, has denied that the comments are antisemitic and brushed off criticism as "yet another politically motivated attack."
as NWRG Onlus we defend the rights and approach thriugh international law adopted by previousand specialtapporteur and bythe internal special commission of UNHR council on Israel Palestine